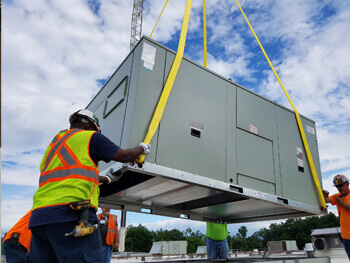 Backed by more than 80 years of experience, the more than 250 associates at EMCOR Services Aircond design and deliver comprehensive, timely, and cost-effective commercial HVAC repair and services, building automation system, and facilities and energy solutions.
These solutions are tailored to the specific needs of businesses and organizations in high-profile commercial buildings, data centers, industrial facilities, and other mission critical sites. The results help buildings run reliably, more energy efficiently, and help promote building, personnel, and business productivity.
Leader in HVAC Repair Services and Facilities Solutions
EMCOR Services Aircond has built a full spectrum of integrated building operations, facilities maintenance, and commercial HVAC repair services ranging from design/build HVAC retrofit and renovation projects to 24/7/365 on-site and mobile facility services for single- and multi-site clients.
Our proprietary online technical training—supplemented by certified factory, vendor, and safety training—helps ensure that Aircond HVAC and facilities technicians are among the best in the business.
Our Mission
To be the preeminent provider of mechanical services in the Southeast through innovation, foresight, integrity, and uncompromising performance.
We strive to be valued as an industry leader among commercial air conditioning companies and design build companies in client satisfaction by uniquely positioning ourselves to provide best-in-class services. We will accomplish this by exceeding the expectations of our customers and employees.