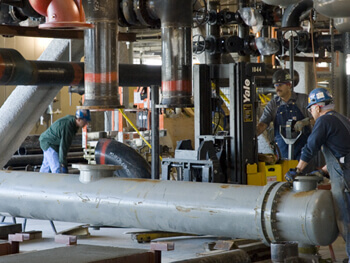 Unique buildings need unique plumbing services, which is why EMCOR Services Aircond creates customized plumbing solutions tailored to the specific plumbing needs and building floor plans of clients.
Using the latest in innovative technology, Aircond's licensed and certified plumbing technicians can simulate a building's peak demand periods to properly size and route supply and disposal piping systems.
Aircond's customized plumbing solutions can accommodate space requirements, existing piping systems, and all current equipment.
Aircond's experts are certified to perform a full range of plumbing services pertaining to commercial plumbing, industrial plumbing, and piping.
Whether working on new construction or a retrofit project, Aircond works hard to get the job done quickly, accurately, and without disrupting clients' normal operations.
Aircond's plumbing services include: