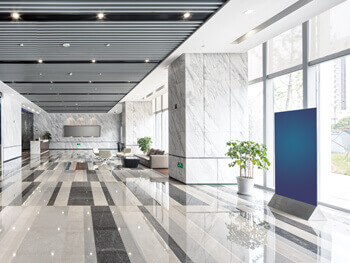 From green buildings construction to energy management services, EMCOR Services Aircond delivers a broad range of energy efficiency expertise and services.
For many facilities, an energy cost reduction of 30% is readily achievable with 10%-15% possible simply through "best practices" and low-cost or no-cost measures. The hardest part is knowing where to start. Let our experts develop a customized strategy for you. We are dedicated to helping you create and maintain high performance environments while helping to reduce energy and operating costs.
Green Technology to Boost Your Building Energy Efficiency
We provide energy audits, evaluations, consultations, and program management and feasibility services designed to save you energy and reduce your energy costs. We can participate in project work during any phase—or every phase—and assist with consultation, design/build, commissioning/re-commissioning, and operation and facility maintenance.
Our energy management services include technical and economic evaluations of concepts and existing systems, site investigations, research into local energy codes, energy audits to evaluate costs and energy use, and pre-construction services to achieve green buildings.
Our PE (Professional Engineering), and LEED (Leadership in Energy & Environmental Design)-accredited experts provide environmentally friendly approaches to construction, site planning, materials, building upgrades, and energy use.
Most facilities have numerous opportunities for energy savings, and we provide energy assessments by using a technology platform that provides advanced benchmarking and analysis to identify energy usage and inefficiencies. Our comprehensive energy assessment is the first step down the path to helping increase profitability and asset value through lower operating costs.
When it comes to green building and energy management, Aircond can help optimize your building performance.
Contact us to learn more about our energy conservation techniques.