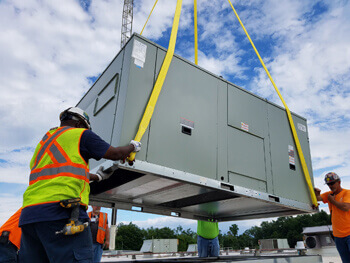 EMCOR Services Aircond is a licensed HVAC maintenance, service, and retrofit contracting company.
We have earned a reputation for providing value to our many satisfied customers through high-quality consulting services and efficient, cost-effective, customized installed solutions.
Whether it's a simple commercial HVAC repair, furnace maintenance, or commercial HVAC service, our network of professional customer service reps and field technicians are ready to assist you in maintaining the proper function and integrity of your entire HVAC system.
With over 1,600 facilities and HVAC service technicians operating in five states, our response time is unbeatable. We react quickly to limit your downtime so your productivity is ensured.
HVAC Service, Furnace Maintenance, and Heating Repair
Properly maintained systems provide lower energy bills, reduced down time, and fewer repair expenses. And the benefits only begin there. Studies prove that higher performing buildings enhance productivity in various meaningful ways.
For instance, in commercial buildings, employees are more productive and have fewer absences. In learning institutions, test scores improve. In hospitals, infection rates fall.
Aircond provides a full array of commercial HVAC instillation, maintenance, service, and support programs that provide peace of mind to facility owners. Our highly trained technicians and engineering teams are equipped with state-of-the-art wireless and paperless field dispatching and information technology.
This allows them to provide customized solutions that optimize the effectiveness of your HVAC maintenance program and provide the fastest response available when the need arises.
We are manufacturer independent and are qualified and trained to support systems of all types. Regardless of the make and model of your systems, we will provide objective, consultative advice that will be the best solution for your facility.
Commercial HVAC Technical Training
All of our commercial HVAC facilities and HVAC service technicians take part in our comprehensive online technical training program. This program assesses the competency level of each technician and provides technical coursework in commercial heating, furnace maintenance, and AC repair as well as facilities and building maintenance.
As technicians move through the program, they're retested again and again to help continue on their career paths here at Aircond. We even supplement this online training with certified factory training and vendor training, as necessary—all to ensure that our technicians are as qualified and up-to-date as possible.
Our programs are tailored to your particular need and application:
Scheduled Maintenance Agreements – improving system performance and reliability
Guaranteed Scheduled Maintenance Agreements – adding the peace of mind of full-service coverage for repairs
Emergency Service and Support – supporting clients with in-house maintenance staff who need the backing of our resources
Energy Savings Programs – adding energy benchmarking, building performance assessments, and energy consulting to any of the programs listed above
Contact us to learn more about our full array of commercial HVAC maintenance services.